Bayer's Polyaspartic Technology Scores Major League Win At Dodger Stadium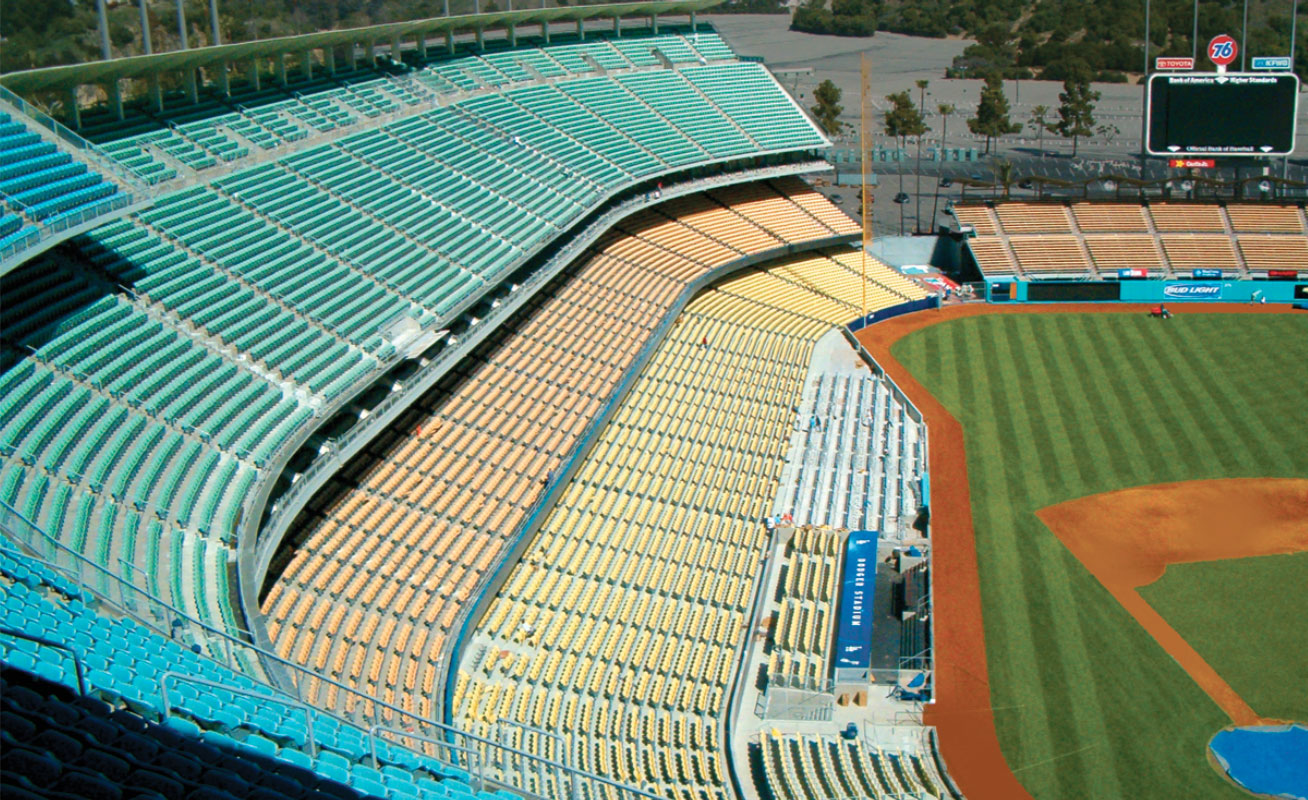 It's a Whole New Ballgame When It Comes to Concrete Restoration
PITTSBURGH, Pa – Since it opened in 1962, Dodger Stadium has hosted some of the most exciting sports and entertainment events in history. More than 100,000,000 fans have stomped their feet when the likes of Don Drysdale struck out another batter, or Maury Wills stole another base. They've jumped up and down when headliners like The Beatles and the Rolling Stones took the stage. And they've marched proudly when the venerable stadium hosted Opening Ceremonies for the U.S. Olympic Festival. These billions of footsteps – and a fair share of beer, soda, and mustard spills – caused the concrete surface to fall into disrepair. Eventually, Stadium officials called a conference on the mound.
It seemed like the bottom of the ninth in the spring of 1999. Dodger Stadium management decided they needed a long ball to keep the home team looking good. They took a big swing and came up with exactly what they needed – a game plan that would result in a massive, seven-year stadium revitalization program.
They Called In The Heavy Hitters
A full roster of tradesmen was slated to be part of the renovation team. But before the concrete restoration began, management called in D7 Consultants to ascertain the problems and recommend a solution. The condition of the concrete was unsightly. In certain areas it had deteriorated to the point where steel rebar was visible. In addition, cracks in the seating areas had the potential of causing water damage to the floors below. According to Stadium owner, Frank McCourt, the goal was to "bring the life back to the concrete so it would be able to withstand another 50 years of active use."
In the 2004 off-season, fabricator Polycoat Products of Sante Fe Springs, California and coatings contractor Innovative Painting and Waterproofing of nearby Brea were asked to perform a test on a 25,000-square-foot section of the Stadium. They recommended Polycoat-Staingard 6072, a highly durable product that is manufactured using polyaspartic coating technology from Bayer MaterialScience.
"We selected this topcoat because it is stain-, UV-, and abrasion-resistant, and it will ensure a long-lasting – and good-looking – surface for years to come," comments Ashish Dhuldhoya, senior vice president, Polycoat Products. "Furthermore, we were able to make a slight modification in the formula to produce a product that is also extremely flexible, allowing it to better fill in surface cracks."
After accelerating the wear-and-tear factor in this area of the Stadium, management agreed that the polyaspartic coating was just the ticket. Following the team's 2005 season, Polycoat and Innovative came back to the plate to supply more polyaspartic coating for additional concrete refinishing.
After repairing especially bad areas, the surface was steam-cleaned and primed before the Polycoat 6072 polyaspartic topcoat was applied. Donald Dancey of Innovative Painting notes, "The Polycoat product was an excellent choice for our airless spray applicators. It dries very quickly, and goes on easily, even under humid conditions. This was key on this job site, because we were following other trades, and other trades were following us. We had to work quickly and yet get the job done right."
Another major benefit of the polyaspartic technology from Bayer MaterialScience was the ability to apply the topcoat to a specified thickness. A 14-mil-thick application of Polycoat 6072 was specified for this particular application, and high-tech equipment on Innovative's pump documented every stroke.
Great Game Analysis
Just like Major League managers analyze every statistic related to their game, Innovative Painting scrutinized every aspect of the coating process. "Computer data recorders on all of our pumps keep track of individual pump strokes and, therefore, polyurea quantities," Dancey explains. "Thanks to this technology, we can keep track of pressures and temperatures, and control thickness using basic coverage formulas."
There's no doubt that this kind of play-by-play analysis coupled with the team effort of Innovative Painting and Waterproofing, Polycoat Products, and Bayer MaterialScience kept the Dodger Stadium managers happy. McCourt was pleased to be able to restore the venerable stadium to its former glory. "We view this as everybody's second home, and the pride of L.A.," McCourt says. Furthermore, thanks to the renovation, millions of fans will be able to enjoy this great entertainment venue for years to come.
For more information on Polycoat 6072 from Polycoat Products, call 562-802-8834 or visit www.polycoatusa.com.
For more information on Innovative Painting & Waterproofing, Inc., call 714-257-0200 or visit www.polyureacontractor.com.
For more information on Dodger Stadium call 323-224-1500 or visit www.dodgers.com. For more information about Bayer MaterialScience's polyaspartic coating technology,
call 800-662-2927 or visit www.PolyasparticCoatings.com.
Bayer MaterialScience LLC is one of the leading producers of polymers and high- performance plastics in North America and is part of the global Bayer MaterialScience business with 18,000 employees at 40 sites around the world and 2004 sales of 8.6 billion euros. Our innovative developments in coating, adhesive and sealant raw materials, polycarbonates, polyurethanes and thermoplastic urethane elastomers enhance the design and functionality of products in a wide variety of markets, including the automotive, construction, electrical and electronics, household and medical industries, and the sports and leisure fields. Our inorganic basic chemicals unit produces chlorine and related essential products for the chemicals industry. Let us give life to your vision. Bayer MaterialScience - Where VisionWorks.
Bayer Corporation, headquartered in Pittsburgh, is part of the worldwide Bayer Group, an international health care, nutrition and innovative materials group based in Leverkusen, Germany. In North America, as of April 2005, Bayer employeed about 16,000 and had net sales of 8.3 billion euros. Bayer's three operating companies – Bayer HealthCare LLC, Bayer CropScience LP and Bayer MaterialScience LLC – improve people's lives through a broad range of essential products that help diagnose and treat diseases, protect crops and advance automobile safety and durability.
This news release contains forward-looking statements based on current assumptions and forecasts made by Bayer Group management. Various known and unknown risks, uncertainties and other factors could lead to material differences between the actual future results, financial situation, development or performance of the company and the estimates given here. These factors include those discussed in our public reports filed with the Frankfurt Stock Exchange and with the U.S. Securities and Exchange Commission (including our Form 20-F). The company assumes no liability whatsoever to update these forward-looking statements or to conform them to future events or developments.
Restoration of the concrete decking was part of a seven-year revitalization program at the venerable Dodger Stadium. According to Stadium owner, Frank McCourt, the goal was to "bring the life back to the concrete so it would be able to withstand another 50 years of active use."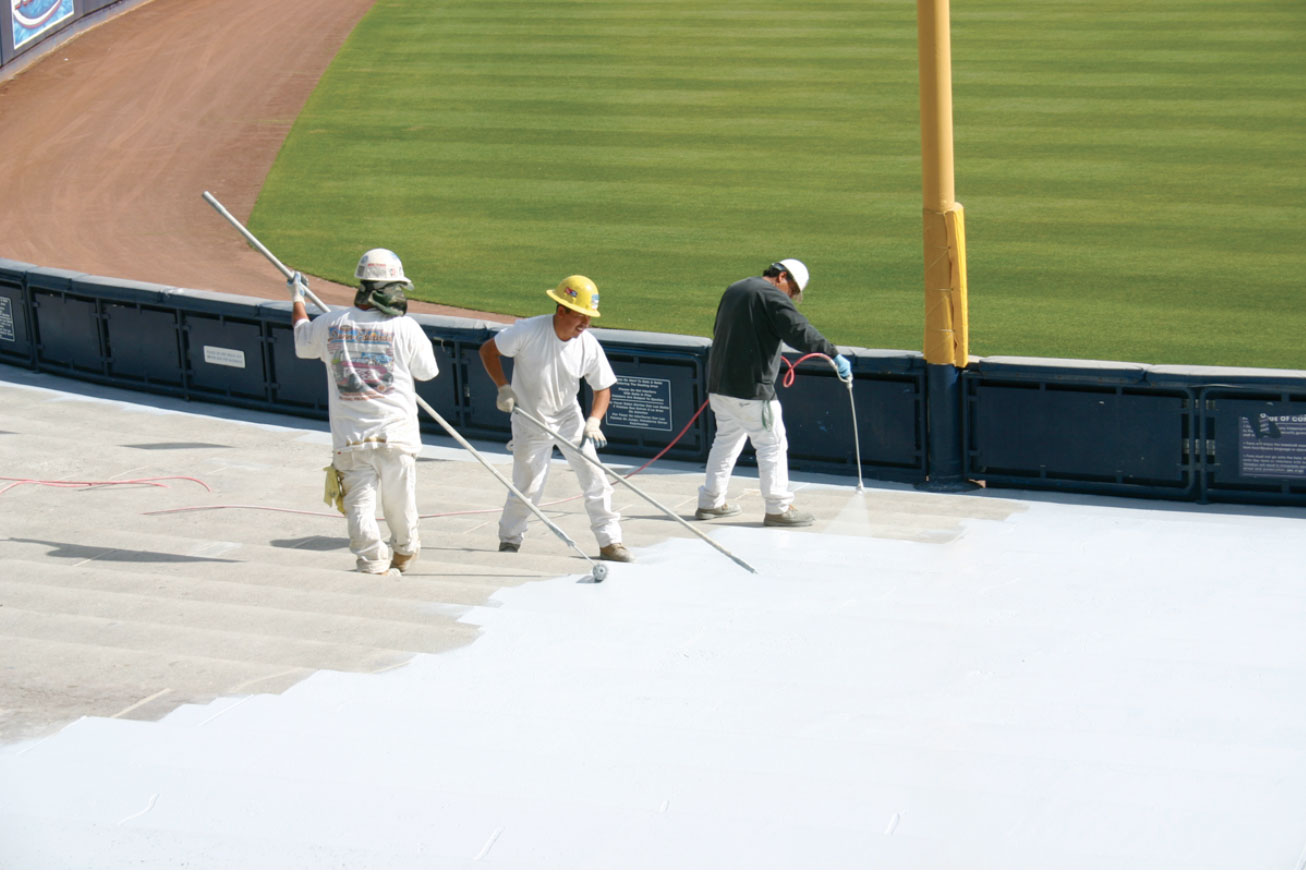 After the concrete decking was repaired, steam-cleaned and primed, Polycoat-Staingard 6072 was applied as a topcoat because of its stain-, UV-, and abrasion-resistance. Manufactured by Polycoat, this long-lasting product uses polyaspartic technology from Bayer MaterialScience.